MICHELLE
Owner/Stylist
Hair and beauty has always been a huge passion of mine. I attended college for 2 years and whilst in my 2nd year of my course I worked one day a week in a salon in Cheadle.
After finishing my college course, I worked at the same salon for 9 years where I gained a huge amount of experience, and that is when I decided to create my own salon. I set up my first salon in 2005 which was great fun and challenging as a first project, then I opened Serenity Emporium in 2007.
During my time as a salon owner, I have continued to update professionally by attending courses to further improve myself and the team, and pride myself in being very hands on in my work!
I'm a very proud to have a loyal standing list of clients who continually return to Serenity. Hopefully that'll be you too!
Qualifications: NVQ Levels 1, 2 & 3 in Hair Styling. Regularly attend Wella courses.
CARLA
Stylist
I joined Serenity in September 2007 as a newly qualified stylist. During my many years hairdressing I am honoured to have built up a committed clientele base.
I enjoy every aspect of hairdressing and I like to make sure I keep up to date with the newest hairdressing trends, therefore I regularly attend new courses to enhance my skill set, including the well known Wella Studio in Manchester.
My Role also involves working alongside Michelle, ensuring that everything in the salon is running smoothly on a day to day basis.
Feel free to call today or pop in to the salon and I'll be more than happy to give you a consultation or any hairdressing advice you may need!
Qualifications: NVQ Levels 1 & 2 in Hair Styling. Regularly attend Wella courses.
: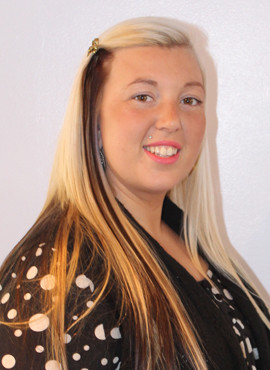 JOANNA
Stylist
I joined Serenity in 2013 after moving from Edinburgh and I've been hairdressing for over 7 years. I started with an apprenticeship and trained really hard for my qualifications at college.
I love my work at Serenity and enjoy meeting new clients in addition to my regular clients.
I'm very passionate about hairdressing and enjoy all aspects, especially wedding & occasion styling which is one of my specialities, starting from the initial consultation through to the end result.
To maintain and grow by hairdressing skills I believe its very important to attend the latest training courses in order to learn even more about the industry and improve my overall experience.
Qualifications: NVQ Levels 1, 2 & 3 in Hair Styling. Wella Education Member.