Quality, affordable hair services.
We understand that when it comes to your hair, you can never be to careful. At Serenity, we offer a range of professional services with fantastic prices too match for both ladies and gents, including cut & finish, restyling and colouring.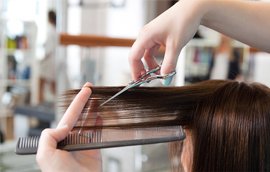 With a team of highly trained stylists, we offer the best hair & beauty services in Stockport. Whether you're after something simple, a tidy up or a completely new hair style – we can cater to your specific needs.
Take no chances in colouring your own hair, we at Serenity are 100% confident in providing the best results for your look, at a price that will suit you. Visit our Pricing Table for details!
Get beautified at Serenity!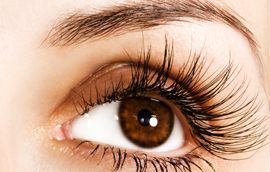 Everybody deserves to be pampered every once in a while. As well as a range of hair and nail services, we are proud to offer you the best in beauty services, including eyebrow and eyelash treatments, manicures, pedicures, aromatherapy and facial massage.
With a wide array of beauty services to choose from, we at Serenity guarantee you'll be feeling relaxed and renourished. Visit our beauty room and treat yourself today!
Gift vouchers are also available in the salon, why not treat somebody special?
Nails are one of the most important features for any girl. With a range of nail care treatments, and varnishes to suit your individual needs, our experienced technician is sure to leave you smiling!
We're pleased to boast an extensive range of quality Shellac nail polishes for you to choose from, which only adds to the quality of our service.
We offer a range of basic hand and feet packages, along with our french deluxe packages. Minx Toes are always a popular choice amongst our regulars, choose your own personalised graphic and sparkling metallic's, and we do the rest!
For full prices of our services, click here.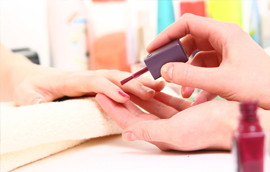 Prices correct as of April 1st 2015 - each price is subject to change without notice.
| LADIES HAIR | PRICE |
| --- | --- |
| Cut & Finish | £30.00 |
| Wet/Dry Cut | £22.00 |
| Finishing | £16.00 |
| Finishing (long hair below shoulders) | from £18.00 |
| Curl and Finish | from £20.00 |
| Restyle Cut & Finish | £34.00 |
| Restyle Wet/Dry Cut | £26.00 |
| GENTS HAIR | PRICE |
| --- | --- |
| Cut & Finish | £13.00 |
| Clipper Work | £9.00 |
| CHILDREN'S HAIR (UP TO 15 YEARS OLD) | PRICE |
| --- | --- |
| Cut & Finish | £21.00 |
| Wet/Dry Cut | from £7.00 up to £16.00 |
| Finishing | £13.00 |
| PERMS | SHORT | MEDIUM | LONG |
| --- | --- | --- | --- |
| Perms | £32.00 | £40.00 | £47.00 |
| Body Perm | £24.00 | £29.00 | £34.00 |
| COLOURS | SHORT | MEDIUM | LONG |
| --- | --- | --- | --- |
| Semi Permanent | £22.00 | £25.00 | £28.00 |
| Full Head Permanent | £32.00 | £35.00 | £38.00 |
| Regrowth | £27.00 | £27.00 | £27.00 |
| Colour Wash Ends | £32.00 | £35.00 | £38.00 |
| Regrowth & Top Foil | £38.00 | £40.00 | £42.00 |
| Hairline & Parting Only | £13.00 | £13.00 | £13.00 |
| Cap High/Lowlights | £29.00 | £32.00 | £35.00 |
| Top Foil/Meche | £20.00 | £24.00 | £26.00 |
| Half Head Foil/Meche | £34.00 | £37.00 | £40.00 |
| Full Head Foil/Meche | £42.00 | £47.00 | £52.00 |
| Spatula | £29.00 | £32.00 | £35.00 |
| | |
| --- | --- |
| Colour Correction | Price by quotation |
| Total Colour Change | Price by quotation |
| Treatments Intensive | Price by quotation |
| BEAUTY | PRICE |
| --- | --- |
| Eyebrow Shaping (15 mins) | £7.00 |
| Corner Lashes (15 mins) | £11.00 |
| Fullset Lashes (30 mins) | £19.00 |
| Infills (15 mins) | £7.00 |
| Eyelash Tint (20 mins) | £10.00 |
| Eyebrow Tint (15 mins) | £7.00 |
| Eyelash & Eyebrow Tint (30 mins) | £14.00 |
|  Note: Eyelash Tints require allergy test 24hrs prior to treatments | |
| SHELLAC NAILS | POLISH | FRENCH |
| --- | --- | --- |
| Hands | £17.00 | £21.00 |
| Feet | £17.00 | £21.00 |
| Hands & Feet | £29.00 | £37.00 |
| Soak off with new Shellac | add £2.00 | add £2.00 |
| Soak off and Finish – £5.00 | | |
| Basic Manicure | £24.00 | £28.00 |
| Deluxe Manicure | £28.00 | £32.00 |
| Basic Pedicure | £30.00 | £34.00 |
| Deluxe Pedicure | £34.00 | £38.00 |
| ACRYLIC NAILS | PRICES |
| --- | --- |
| Tip & Overlay | £20.00 |
| Full Set & French | £25.00 |
| Full Set & Shellac | £30.00 |
| MINX TOES | PRICES |
| --- | --- |
| Minx Nails | £24.00 |
| MANICURE & PEDICURE | PRICE | WITH FRENCH POLISH |
| --- | --- | --- |
| Basic Manicure (30 mins, 45 with French Polish) | £14.00 | £18.00 |
| Deluxe Manicure (45 mins, 1hr with French Polish) | £18.00 | £22.00 |
| Basic Pedicure (45 mins) | £20.00 | £24.00 |
| Deluxe Pedicure (1 hour) | £24.00 | £28.00 |
| HANDS & FEET | PRICES |
| --- | --- |
| File & Polish (20 mins) | £8.00 |
| French Polish (20 mins) | £9.00 |
| Paraffin Wax Treatment (Hands or Feet) | £10.00 |
| WAXING | PRICES |
| --- | --- |
| Underarm (15 mins) | £8.00 |
| Bikini (15 mins) | £8.00 |
| Forearm (20 mins) | £11.00 |
| Full Arm (30 mins) | £13.00 |
| 1/2 Leg (30 mins) | £12.00 |
| 1/2 Leg & Bikini (30 mins) | £19.00 |
| 3/4 Leg (45 mins) | £16.00 |
| Full Leg Wax (1 hour) | £22.00 |
| Full Leg & Bikini (1 hour) | £25.00 |
| Full Leg, Bikini & Underarm (1 hour 15 mins) | £28.00 |
| Mens Back Wax (30 mins) | £16.00 |
| Mens Chest Wax | £16.00 |
| Lip & Chin (15 mins) | £11.00 |
| Lip (15 mins) | £7.00 |
| Chin | £7.00 |
| AROMATHERAPY | PRICES |
| --- | --- |
| Full Body Massage (1 hour) | £33.00 |
| Back & Neck Massage | £20.00 |
| FACIAL & MASSAGE THERAPIES | PRICES |
| --- | --- |
| Tea Tree Massage & Facial (1 hour) | £25.00 |
| Basic Facial (45 mins) | £20.00 |
| Leg Massage (30 mins) | £18.00 |
| Foot Massage (20 mins) | £13.00 |